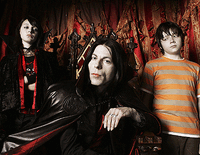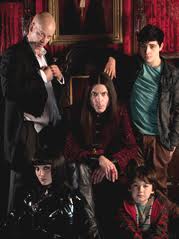 Young Dracula is a British children's television series airing on CBBC, which is loosely based on the children's book by Michael Lawrence. The first series, consisting of 14 episodes, was broadcast in 2006.
The second series was broadcast from 2 November 2007 - 8 February 2008 and consisted of a total of 13 episodes. After a hiatus of nearly four years, the third series was commissioned and aired from 31 October 2011 to 12 December 2011. The series kept some of the original cast and was directed by Joss Agnew. The fourth series aired in 2012, and the fifth and final series aired in early 2014.
Plot
The series follows the Dracula family: Vladimir, his father Count Dracula, and older sister Ingrid. Having lived in Transylvania, they move to Stokely, a small town in Britain after various incidents involving angry peasant mobs.
Series 1 follows the adventures of 12 year old Vlad as he tries to fit into a new school after moving with his family, from their gothic castle in Transylvania to English suburbia. As if moving house wasn't enough, Vlad one other MAJOR difficulty - he has to hide the fact that he comes from a family of vampires!
Series 2 - After the events of the Hunt Ball at the end of season 1, Count Dracula and Mr Van Helsing are determined to kill each other, much to Vlad's anguish. Chloe has decided that she no longer feels safe around the Count, and leaves Robin and Vlad to sort things out on their own.
Series 3 - Four years on, Vlad is now a fully fledged vampire, honing and testing his new powers. His journey to understand, embrace and control his formidable abilities throws him into conflict with those around him and his attraction to Erin, a 'newly bitten half-fang', sends him on an emotional rollercoaster.
Episodes
Main Article: Episode Guide
Characters
Main Article: Category: Characters
Main Characters:
Recurring Characters:
Incorporated themes
The series encompasses a lot of things that many schoolchildren find difficult. On the series' own webpage there is information on moving house, which can be stressful for young people. One of Vlad's early concerns is having to adjust to living away from his native country and speaking a new language in order to pass as a "normal" human, which of course is all he wants to be. There is divorce and adultery in both the Dracula and Van Helsing households and in each, the children despair at how out of touch their respective fathers are on realistic, modern-day life - a complaint of many young teenagers.
Vlad, Jonathan and Robin feel isolated not only from outsiders but from the rest of their families, where by contrast Ingrid, who really wants to be a vampire, rages at the preferential treatment her brother receives from their father despite her greater skills and better grades at "vampirism", so that she feels even less at home within the culture she should be flourishing in. Above all, difficult, irregular and complicated family relationships (a trait that Vlad, Ingrid, Robin, Chloe and Jonathan all share, despite the fact that they are otherwise quite different characters) is an ongoing theme that makes it in yet another way more familiar to modern young viewers, whilst at the same time being unafraid, in the second series, to have an element of darkness in it and so make it different from quite a lot of other children's series of the time.
Awards
In 2007 Young Dracula won the Royal Television Society Award for Best Children's Drama, and the Welsh BAFTA for Best Children's Drama.
In 2008 Young Dracula was nominated for the BAFTA Children's Drama Award.(source)
Community content is available under
CC-BY-SA
unless otherwise noted.