Wolfie is Ingrid's younger maternal half-brother, and Vladimir's younger materal step half-brother. He was born in Baby Dracula, and eventually named "Barry".
In series 3, Magda tries to emotionally manipulate Vlad into making her his regent. When this fails she leaves Wolfie with the Draculas, where he stays for a period of time under the reluctant ward of the Count. Wolfie left with Magda shortly before the beginning of series 5.
He is the only known vampire/werewolf hybrid throughout the series, but currently seems to exhibit only the powers of a werewolf.
Personality
Edit
Wolfie seems to be a very sweet and meek boy, despite him developing a bit of a rivalry with Renfield.
Relationships
Edit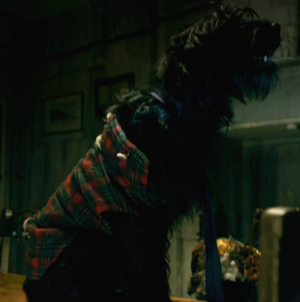 Count Dracula
Edit
After discovering that he was a werewolf in Baby Dracula, Count Dracula said that he wanted to bite him. Later in Fangs for the Memories, Count finds Wolfie annoying because he gets in his way a lot. He threatens to send him back to Magda, but, before succeeding in sending Wolfie away, he realises that he has some affection for the boy.
Later in the series the Count decides to take him out hunting, evidence that their relationship is building. In All For One, the Count tells Wolfie to help Renfield cure his invisibility trance that Sethius put on him.
Ingrid Dracula
Edit
She cares deeply for her younger half-brother.
Magda Westenra
Edit
He likes his mother but doesn't know that she is too busy for him and might not care for him. It is confirmed in Series 3 Episode 3 that she and Patrick are too busy for him when they leave him with the Draculas. However, Magda clearly does care about Wolfie when she takes him back in between series 4 and 5.
Wolfie develops a rivalry with Renfield when he arrived competing for The Counts attention and they argue a lot over whom The Count likes more. However, in series 5, Renfield becomes devastated when Ingrid tells him Magda took Wolfie back and vows to keep his old toys indicating they have become friends.
Family Tree
Edit
Wolfie's family tree
Community content is available under
CC-BY-SA
unless otherwise noted.