Vampire Slayer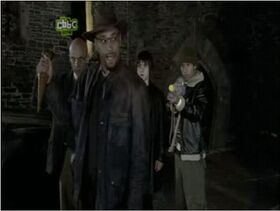 "Vampires and slayers are never friends!"
- Count Dracula

Vampire Slayers are people who set out to fight and slay vampires. Most slayers are members of the Slayer's Guild.
Notable Slayers
Eric Van Helsing ( it is unknown what happened to him but he is not in series 3 and it is assumed he has been killed by Ingrid).
Jonathan Van Helsing (in series 3, Jonno has become head of the SHQ, slayers headquaters, alongside his mother)
Mina van helsing (it is implied by the preview for series 3 that her and Johnathan are now slayers)
Ryan (he was bitten by Ingrid before the start of series 3. He is now a half fang as his sister, Erin, wouldn't slay him before he fully turned)
Community content is available under
CC-BY-SA
unless otherwise noted.