The Blood Test
Series 01, Episode 13
Air Date
14th December 2006
Writer
Katie Douglas
Previous
Halloween
Next
Countdown
The Blood Test
(also known as
Blood Tests
) is the penultimate episode of Series 1 of Young Dracula. It aired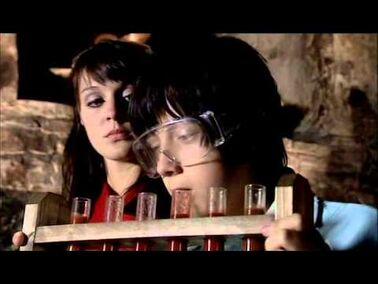 on December 14, 2006. 
It is time for Vlad to undergo a test that all vampires must take - the Blood Test. The blood test is a important rite of passage for vampires. Vlad wants to fail the test so that he would almost pass as human, but the count threatens that he would not see his friends, Robin and Chloe, anymore if he fails. Vlad seeks help from Robin, Ingrid and Zoltan. After an argument involving Vlad complaining that Robin is not a normal friend. Robin joins the football team which turns out he is pretty good at. Vlad at first tries to fail the blood test, but after Robin reconciles with Vlad he passes it just barely.
Written by - Katie Douglas
Director - Joss Agnew
Producer - Mia Jupp
Series Created by - Danny Robins and Dan Tetsell
Community content is available under
CC-BY-SA
unless otherwise noted.