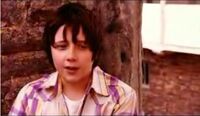 Gerran Howell (born February 25, 1991) Aged 20 is a Welsh actor, best known for playing Vladimir Dracula in Young Dracula, a CBBC television series that initially aired between 2006 to 2008.
The show revolves around Vlad and his family as they try to live in a small, rural British town after they moved there from Transylvania. A third series was announced for production and airing in 2011.
Links
Gerran Howell on Wikipedia
Gerran Howell on Internet Movie Databaseseries3
Gerran Howell on Twitter @GezFez
series 3 takes off 4 years after ingrids takeover of the dracular castle vlad and his dad the count have fled stokely pursued by both slayers and vampires.deciding to hide in plain sight they purchase a school ,while the count is determined that vlad gain his powers and become leader of all vampires.
Community content is available under
CC-BY-SA
unless otherwise noted.