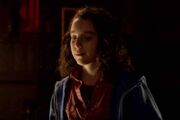 "I had a fabulous time making Young Dracula - all the cast and crew have been wonderful." - Bella.
Bella Band is the young actress, who currently plays Georgina Giles in Season Five of Young Dracula. She is represented by Top Talent, after being signed to the agency in September 2012. Bella is from Chester- specifically Queen's School- and is only thirteen years old, making her the youngest cast member in Season Five of Young Dracula.
Full Filmography
Bella started her career in an Asda Christmas advert of 2012. Playing George in Young Dracula is her first official role, though she has also been cast in "You, me & them".
Links